Depression wears many faces.
It doesn't always look like a tears-streaming-down-your-face ugly cry in the fetal position. It doesn't even always look somber or neutral.
Sometimes, depression laughs.
It even belly laughs.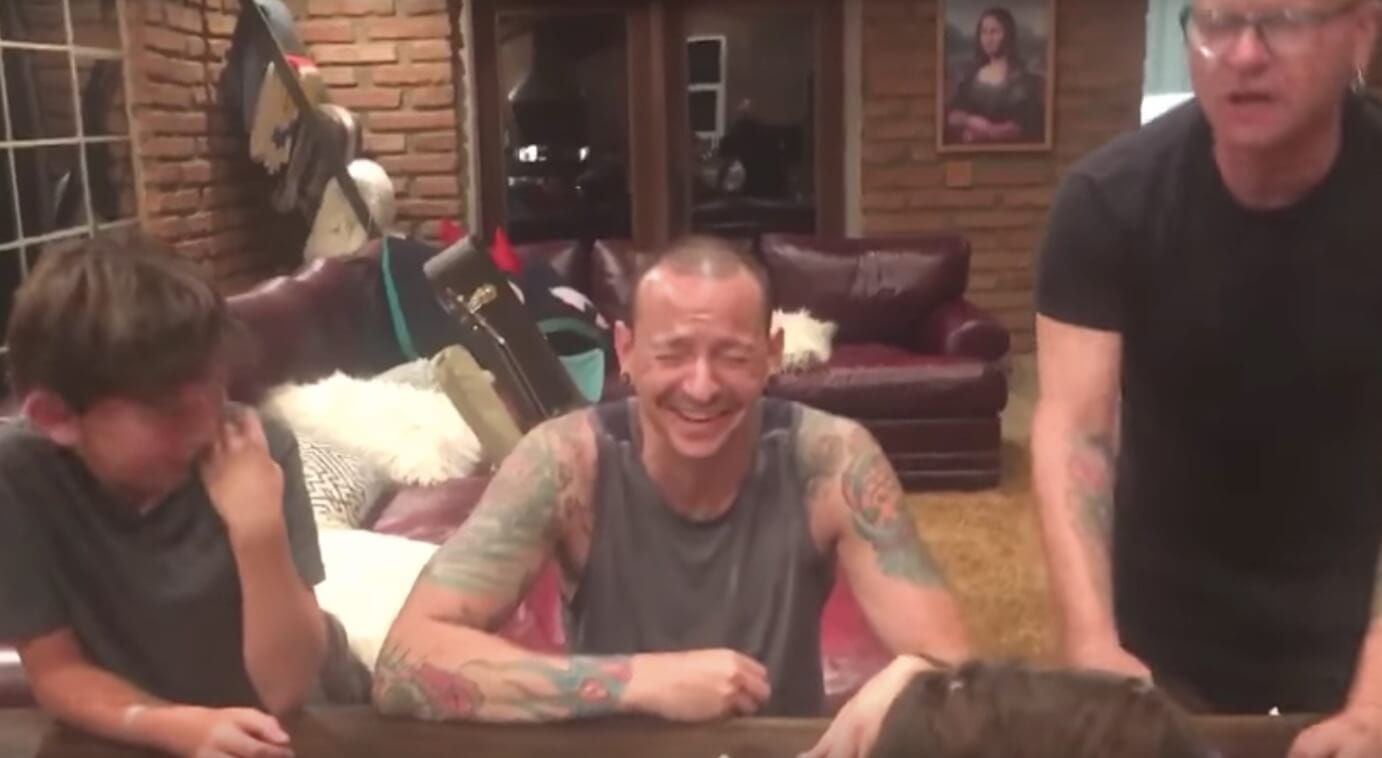 This was the face of Linkin Park lead singer, Chester Bennington, 36 hours before dying by suicide in his Los Angeles home this July.
His wife, Talinda Bennington, took to Twitter this weekend to post the "most personal tweet" she's ever shared: a video of her late husband laughing.
The 40-second footage featured a cheerful Chester playing a game with his children.
"This is what depression looked like to us just 36 hrs b4 his death," wrote Talinda. "He loved us SO much & we loved him."
After spinning to see what jelly bean flavor he had to eat, Chester cringed as his fate fell upon "rotten egg." A brief second after having a taste, he playfully spit out the candy and busted up laughing.
Between his big smile and the infectious giggles in the background, the father seemed to be in high spirits.
But that couldn't have been further from the truth. Less than two days later, the singer took his own life.
So why post something like this?
"So that you know that depression doesn't have a face or a mood," wrote Talinda, who shared another smiling photo of her late husband earlier this month.
"This was days b4 my husband took his own life," she tweeted. "Suicidal thoughts were there, but you'd never know."
The grieving wife has taken Chester's death incredibly hard, as he left behind not only her, but their three young children as well.
"I lost my soulmate and my children lost their hero—their Daddy," the 40-year-old widow told PEOPLE one week after the tragedy. "We had a fairytale life and now it has turned into some sick Shakespearean tragedy. How do I move on? How do I pick up my shattered soul?"
But she now aims to redirect her pain to help others who are silently suffering from depression behind the mask of a happy face, making her life mission to "rise by lifting others."
"May God Bless us all and help us turn to one another when we are in pain," said Talinda in a public statement. "Chester would've wanted us to do so. Rest In Peace, my love."
---
If you or someone you know is struggling with a mental illness, please know you are not alone. Suicide is completely preventable. There is hope. PLEASE reach out if you are experiencing suicidal thoughts, or fear that someone you love might be.
If you need support right now, call the National Suicide Prevention Lifeline at 1-800-273-8255, or text "START" to 741-741.
Read more: http://faithit.com/chester-bennington-wife-shares-video-laughing-before-suicide/